WELCOME TO AMERICA!
MONA LISA SELFIE ala 21st Century Tech
MANY THINK A YOUNG MAN CALLED GIAN GIACOMO CAPROTTI WAS THE MODEL FOR THE PORTRAIT
*
MONA LISA ART SITE COMPLETE WITH LINKS FOR
ART, GAMES + ACTIVITIES

*
PINTEREST BOARD ON MONA LISA AND
LEONARDO DA VINCI by Mrs.Terrigno
*
MONA LISA COLLAGE IDEAS from a Thrifty
Mom
*
MonaLisa Lesson Plans

WORLD'S MOST FAMOUS
PORTRAIT
by
Leonardo Da Vinci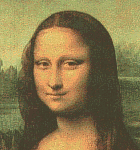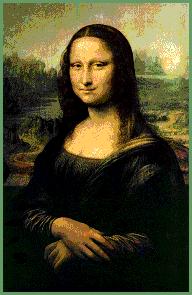 (Perhaps the MonaLisa is really an apprentice called GianGiacomCaprotti
Some think the name is an ANAGRAM for the name MON SALAI.)

OR...
WHO WAS MONA LISA?
Was it Salai ("Little Devil" nickname of Gian Giacomo Caprotti di Orena) adoped by DaVinci at age 10?
Is the name MONA LISA an anagram for MON SALAI?