WILL ROBOTS CONTROL THE WORLD ONE DAY?

Robots may become man's best friend!
Leonardo DaVinci the Italian Polymath is credited for being the first to create an ANDROID.
This robot was built from the designs in one of his notebooks.
MESSAGE FROM THE
MASTER IN ENGLISH
FEMALE HUMANDOIDS ARE OFTEN CALLED GYNOIDS OR FEMBOTS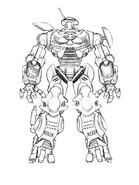 SAVE / PRINT / COLOR
She has flexible silicone for skin rather than hard plastic, and a number of sensors and motors to allow her to turn and react in a human-like manner.
She can flutter her eyelids and move her hands like a human. She even appears to breathe.
Professor Hiroshi Ishiguro of Osaka University

says one day robots could fool us into believing they are human.
Repliee Q1Expo is not like any robot you will have seen before, at least outside of science-fiction movies.
She is designed to look human and although she can only sit at present, she has 42 actuators in her upper body, powered by a nearby air compressor, programmed to allow her to move like a human.
LEONARDO DA VINCI as an AUTOMATA MACHINE is now on PLANET EARTH!
In just a few months, François Junod (Swiss artisam in Sainte-Croix) hopes to bring Leonardo da Vinci to life, the wind-up automaton version, that is. Junod is entering the final stage of assembling da Vinci, which will blink its eyes and write and draw mirror images.
E=MC
2
Albert Hubo

is a humanoid robot having Albert Einstein's face. This robot can express various human emotions using 30 robotic muscles, and can also walk and dance.
(And now for the good stuff ----ANDROID PUPPET Ideas)
SAVE / PRINT OUT / COLOR
HAVE AN ADULT HELP YOU.
USE FELT, PAPER FASTENERS, and WOODEN BEADS or BUTTONS.
ELASTIC THREAD / RUBBER BANDS / STYROFOAM can be used.
Below are SIMPLE TEMPLATE IDEAS to Imitate.
CUTE "DISSECTION STYLE"

ANDROID ROBOT CHARACTERS

for KIDS
in GIF ANIMATIONS (Lego, Mickey Mouse, My Kitty + More just for FUN!)






Cynthia Scrapbook / ROBOT GAME / KismetRobotVIDEO / Biography
MIT Professor / World's Leading Roboticist
MEN or ROBOTS?
HUMANOID FEMALE ROBOT
ROBOT DOG
BEAUTIFUL JAPANESE 18 Year old
ARTICFICIAL INTELLIGENCE ROBOT DEVELOPED BY FORD
ARTIFICIAL / COMPUTATIONAL / SYNTHETIC INTELLIGENCE
BIOLOID HUMANOID ROBOT MOVEMENT VIDEO
I ROBOT starring WILL SMITH
MORE ROBOT ART WORK